With a few tips from the pros, it's easy to up your style game.
Have you ever noticed how a rare few men have a seemingly effortless way with style? Whatever they put on —whether it's a relaxed jeans-and-T-shirt combo, winter layers or a razor-sharp suit — everything looks enviably impeccable: well-fitted yet comfortable, nonchalant yet considered.
While there are, sadly, no hard-and-fast guarantees to sartorial success, by following some of the habits of the most stylish men, you can minimise the risk of making style faux pas. And whether you emulate them on a wholesale or piecemeal basis, they'll help raise your style game.
10 HABITS OF WELL DRESSED MEN
Value Style over Fashion
Realise that Less is More
The Power of Smart Footwear
Get a Great Tailor
The Difference between Comfortable Clothing and 'Comfort Clothing'
Buy Smartly
Know How to Care for your Clothing
Be a Rule Breaker
Create Your Own Personal Style
Confidence
"Trends come and go, but style will endure" | Yves Saint Laurent
The most stylish men bypass the latest trends and fashions in favour of timeless style. The result? They look up-to-date without appearing overtly trendy.
Trends change at breakneck speed, so unless you've exceptionally deep pockets and an unwavering commitment to fashion, trying to keep up with the latest looks is doomed to fail. Not only will it leave you broke and exhausted, it will also leave you open to potential ridicule.
That's not to say, of course, that you can't ever be bang up-to-speed with the hottest trends. But before you blow the budget and jump on the seasonal bandwagon, sartorially speaking, you should ask yourself three questions. Firstly, am I buying this because I like it, or simply because it's 'in fashion'? Secondly, does this really look good on me? And, finally, is this a smart purchase that will look just as good in six months' time?
Always bear in mind the words of wisdom of the perennially stylish Yves Saint Laurent: "Fashions fade; style is eternal."
Simplicity is usually king when it comes to men's style – and it's a rule that's appropriate to almost every item of clothing.
Jeans? A pair of dark, slim-fitting denims trumps the competition, whether they be distressed or acid-washed jeans, etc.
T-shirts? Whether it's James Dean, Marlon Brando or modern day style heroes such as Ryan Gosling or George Clooney, they all recognise the classic style of a pared-back, plain crewneck T-shirt.
Suits? Sure, that tartan check three-piece will get you noticed, but is it for the right reasons? Whatever your size or fit, chances are you'll look infinitely smarter in a well-tailored navy two-piece with a crisp white shirt, rather than a statement-making suit that serves little purpose other than sartorial one-upmanship.
In short, simplicity should never be underestimated. If in doubt, always play it safe with timeless classics that whisper rather than shout. Leave the large logos to the kids; men are sufficiently confident in their style choices to have little need to broadcast the name of the brands they are wearing.
Shoes are one of the first things that people notice, so it's important for every sartorially-savvy man to give footwear the respect they deserve.
Shoes that are cheap, or in shoddy condition, will instantly ruin the rest of an outfit, no matter how smart or expensive it is. And that's why when it comes to shoes, it's worth spending that little bit extra to ensure higher quality. As the eminently quotable Hardy Amies once quipped: "It's impossible to be well-dressed in cheap shoes."
Smart footwear doesn't just begin and end with purchasing a few pairs of quality shoes. Their maintenance is just as important - treat them well (regular weekly polishing, for example) and you'll be rewarded with a pair that will, over time, look as good as the day you bought them.
Oh, and if you're looking for some tips of shoe care, wipe your leather shoes with a damp cloth at the end of each day to remove the day's dirt and dust. Come the weekend, set aside 5 or 10 minutes to polish your business footwear for the working week ahead. Job done!
Knowing a tailor need not be in the 'bespoke tailoring' sense – it can just as easily be a local seamstress, alterations service or even a dry-cleaner that will raise or lower the hem of your trousers, or loosen or take in your jacket. The point is that every well-dressed man understands the importance of a great fit, and has someone to turn to in order to help him achieve it.
Aside from their form-enhancing advantages, the beauty of alterations is that they're inexpensive (or, as with Louis Copeland, alterations are free even years after you purchased the garment). So, whether you're having a new purchase adjusted, or having an existing item of clothing adjusted to accommodate a few extra kilos, whether acquired or shed, some clever alterations will have your clothing fitting perfectly.
There's an old saying that an inch is a mile in menswear, and it's not far from the truth. And that's why every well-dressed man needs a go-to person to have their clothing adjusted to fit them just so.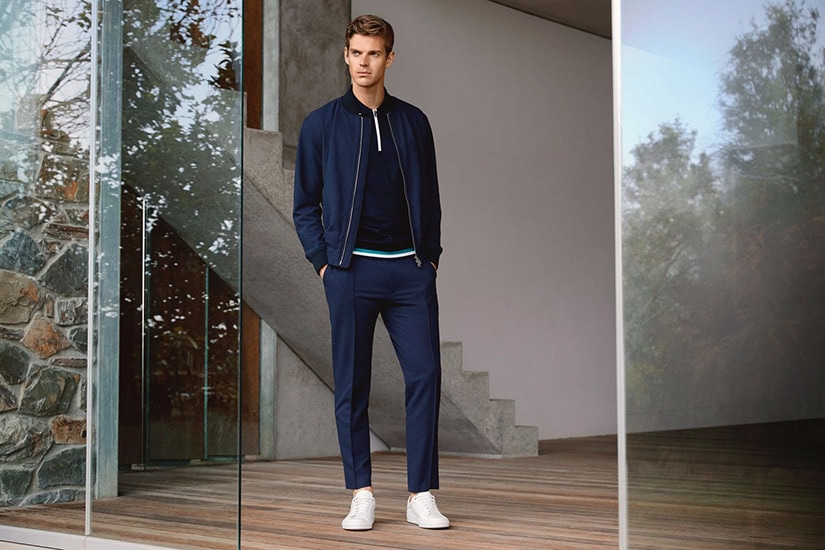 Every stylish man will wear clothing that he is comfortable in. And that translates into visual success – if you feel comfortable wearing a certain type of outfit, chances are you are familiar with that style and know that it looks good on you.
Playing it safe might sound boring, but it's far better to wear outfits that you are comfortable and confident in, rather than simply wearing something that you feel you 'should wear', simply because it's on-trend (see point 1), and that you are not comfortable with.
And never confuse clothing that is comfortable with 'comfy clothing'. Fleece tops, hoodies and track pants fall into the latter category. And, should really only be worn for leisure activities or washing the car.
Stylish men tend to have mastered the art of clothes shopping. And, for the uninitiated, there's more to shopping smartly than meets the eye.
Smart shopping means investing in key fashion items that transcend what's 'on-trend' for a particular season. A floral print silk bomber might look the business on the Milan catwalks, but it might not be so suitable back home.
As mentioned above, it's fun to occasionally dabble in the season's freshest fashion, but no stylish man will have his wardrobe filled with pieces that are likely to quickly become passé. The most dapper gents will, instead, take a more studied approach when it comes to clothes shopping, acquiring classics that will stand the test of time – a pair of no-fuss dark denims, a camel trench, fitted navy blazer, crisp white Oxford shirt, cashmere crewneck, leather Derby shoes.
Smart shopping also extends to acknowledging that, when it comes to clothing, you tend to get what you pay for. And when it comes to the classics, it pays to invest in the best you can afford.
A steep price tag may seem off-putting, especially when it's possible to source a cheaper alternative; but it's important to understand how value and quality are linked. While a pair of leather-effect shoes can be picked up on the high-street at a seemingly bargain price, but they're unlikely to last beyond a few months and will require regular replacing. A more costly pair, meanwhile, will hit the wallet harder initially, but their superior quality will see the shoes endure, making them a smart investment.
When it comes to shopping, consider this as a simple rule of thumb: don't be afraid to spend on a few transitional clothing items every now and then; but put the bulk of your budget towards high-quality menswear classics that will look great by themselves, and will also allow you to incorporate trends in a more subtle and sophisticated way.
WELL DRESSES HABIT 7 - KNOW HOW TO CARE FOR CLOTHING
Buying covetable clothing and putting complementary looks together are essential for sartorial success, but the maintenance and care of clothing is just as important for any self-respecting gent.
The best-dressed men know how to keep their clothing in pristine condition – whether it's storing them properly (wooden hangers are recommended) or knowing how best to wash them.
It's the little details that truly make a difference – things like having dress shirts dry-cleaned and pressed, or folding cable knit sweaters loosely in order to maintain their best shape.
Keeping clothes in tip-top condition withstands their integrity, extending their life and ensuring they look smart and presentable. After all, it's pointless having a timeless capsule wardrobe that is the envy of all, if you don't know how to care for your clothes properly.
Granted, many men are familiar with the most common 'rules' about, say, trouser length, what shoes to wear with a navy suit, and when to leave the bottom button undone on a jacket. And that's great! But it's just as important to recognise that rules are, for the most part, simply guidelines.
If everyone followed the rules to the letter, it would make for a very dull world. Sure, we'd all be immaculately kitted out, but in almost identical, ultra-safe outfits.
True style happens when a man works with his own interpretation of the 'rules'. And while that's not to suggest you put a pair of hiking boots with a three-piece suit, it's good now and then to be a style rebel and bend, or even break, the odd rule!
Even the most stylish men have been known to take inspiration, but they never wholeheartedly replicate another man's look. Imitation may be the highest form of flattery, but, it shows a lack of confidence in one's own style.
Developing a strong personal style is arguably the most difficult part of being well-dressed (it's also the most rewarding). It's easy to admire and carbon-copy a colleague or a celebrity's outfit, but you'll never really feel yourself when you wear it.
The key to true style is knowing what suits your features, which, in turn, allows you to adapt trends, colours and silhouettes in more classic ways for a truly personal look.
'Clothing maketh the man', as the old adage goes, but there are few things less attractive than a man who looks like he is trying too hard. Style is all about confidence; the confident man owns his look because it's an authentic expression of his personality and who he is.
Whatever the occasion, the most stylish men will always ensure that they wear the clothing, not the other way around.
Looking for more tips and advice? Check out
 

some of our extensive blog posts

 

to keep up with the latest trends and improve your style game.