Tired of the same old tourist-filled, clichéd cities on everyone's travel bucket list? For those prepared to look beyond the usual suspects, there's a wealth of choice for superb city breaks across Europe. From Iceland's breathtaking Reykjavik to Italy's best-kept secret, Bologna, here's all you need to know on five of the most memorable cities for a flying visit.
For a city break with a difference, it's hard to beat Reykjavik, Iceland's tiny capital. The
majestic, mysterious Arctic island is teaming with natural wonders – glaciers, waterfalls, geothermal lagoons, volcanoes and bubbling mud pools - and other-worldly landscapes, making it a visual feast for the senses.
Plan your trip between September and mid-April and you might even get to witness the atmospheric phenomenon that is the breathtaking Northern Lights (when the ethereal aurora borealis lights up the night sky in greens, blues, yellows and pinks). If not, you can always console yourself with a spot of whale watching or, should energy levels dip, a day of R&R in one of the city's natural hot springs.
There's more to the trendy Icelandic capital than merely Insta-worthy landscapes and skylines, though. For such a small city, Reykjavik's nightlife more than punches above its weight, while buildings such as the striking Hallgrimskirkja church show that it boasts its fair share of architectural gems, too.
Reykjavik: Northern exposure at its finest!
Summer may be over but Dubrovnik's sublime location and fine weather ensures that this Croatian gem remains warm until late October, making it a perfect location for those seeking a city break that combines culture and leisure.
The city's key draw is its charming, pedestrian-only old town, which is teaming with
aristocratic palazzi and elegant Baroque churches, contained within sturdy medieval fortifications. If it looks familiar, that might be explained by its popularity as a location for filming; it is a favourite of Game of Thrones, while the forthcoming Star Wars: Episode VIII and Robin Hood: Origins have both recently shot within its Unesco-listed walls.
Beyond the old town, there's plenty to while away the hours. Sightseers can grab a cable car to the top of Mount Srdj to enjoy a breath-taking panoramic view of the city's layout, or hop on a boat to explore the nearby islands of Elaphiti, Korcula and Mljet. Culture vultures, meanwhile, will enjoy a visit to the Homeland War Museum and the excellent Museum of Modern Art.
Factor in the pristine beaches and calm blue waters of the Adriatic, numerous wallet-friendly eateries serving top-notch seafood and accommodation options for all budgets and it all adds up to the perfect city break.
There's a reason the Danish capital is regularly voted the happiest city in the world, and even the most fleeting of visits should leave you in little doubt of its charms (which, sadly, do not include its prices; Copenhagen is undoubtedly one of Europe's most expensive cities).
Being flat, built around waterways and with a compact downtown area, Copenhagen is a very pedestrian-friendly city and easy to navigate on foot. Better still, many of its tourist attractions — the historic central area, autonomous hippie neighbourhood Christiana and hipster hub, Vesterbro — are within easy walking distance of the City Hall Square and Central Station, where a very helpful tourist office is located.
Visually, Copenhagen is a real treat. Many of the city's most impressive buildings date from the golden age of the 17th century, but there's a wealth of chic contemporary design, too. Architecture aside, visitors can amuse themselves by sampling everything from its excellent museums and top class restaurants (Copenhagen is home to the renowned, two-Michelin-star Noma) to its varied nightlife (its jazz bars are a huge draw) and colourful markets.
See? There's a reason the Danes are so happy.
It may not boast the glamour of Rome, the breathtaking beauty of Venice or the style of Milan, but gritty yet graceful Bologna, the capital of the Emilia-Romagna region, is undoubtedly one of Italy's best-kept secrets.
Significantly less expensive than the country's more glamorous destinations, Bologna boasts an impressive history that is immediately evident. Home to Europe's oldest university, the city is, rather handily for those on foot, laid out on a medieval grid characterised by miles of terracotta porticoes and stunning red stone arcades.
While some of the most popular tourist attractions are over-rated, a trip to Bologna would not be complete without a visit to the famous Fountain of Neptune, an early morning espresso enjoyed overlooking the romantic palazzos and towering basilicas, and a leisurely browse of the thriving contemporary art scene of the city's Saragozza neighbourhood.
As Italy's unofficial gastronomic capital, Bologna is not recommended for those watching their weight. From classic trattorias and osterias favoured by the Bolognesi to high-end restaurants, there's no shortage of eateries to indulge in some wholehearted Italian decadence.
La Dolce Vita? Absolutely.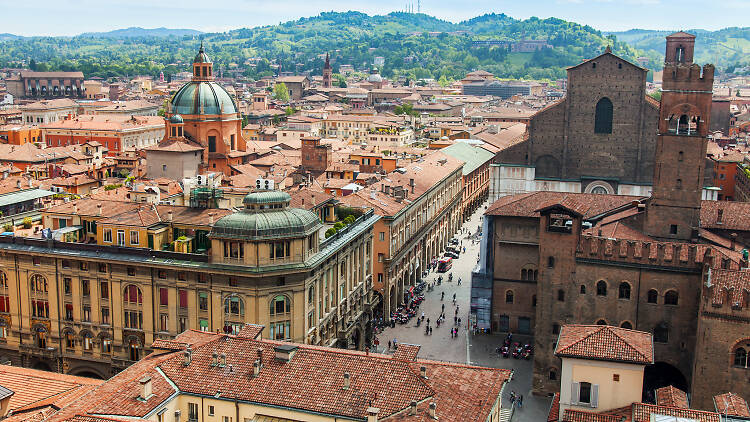 Messers Farrell and Gleeson may have made Bruges Belgium's most talked about (for perhaps the wrong reasons) city, but for the discerning traveller, Antwerp is well worth a visit.
As a trading behemoth in the period from 1500 to 1650, the Flemish city's status as an international powerhouse can still be gleamed from its rich architecture (the palatial turn-of-the-century Antwerpen-Centraal train station is particularly impressive) and, of course, the proliferation of boats in all shapes and sizes that dominate the port.
Culture vultures will find themselves spoiled for choice but are likely to make a beeline for Antwerp's medieval heart where, amongst its labyrinthine streets, the bustling Grote Markt (Great Market Square) is a deservedly popular attraction. Elsewhere, the proud Flemish heritage is apparent in the city's gritty docks district and, in particular, at Rubenshuis, the home and gardens of the great master Rubens.
No Belgian experience would be complete, of course, without a feast of moules-frites (mussels and chips), washed down with one of the country's famous Trappist beers and followed by a dessert of Belgian waffles.
Bon appétite!
Check out our main blog for all the latest how to's, style trends and fashion tips for men.