Booking a getaway and want to try something new? From eco-excursions in the sun- soaked Caribbean to detoxing on the Med, the following seven are holidays that you might not have considered – but definitely should.
1. ACTION & ADVENTURE: JAMAICA
WHAT: While it's recognised as the home of chill, Jamaica boasts much more than palm trees and sandy beaches! In fact, it's one of the best places in the world to work up a sweat and get the heart pumping!
WHY: Cities like Montego Bay and Negril, located in the North West of the island, are the perfect bases for high-adrenalin activities. Whether it's scuba diving, paddle boarding, windsurfing, water-skiing or hobie cat sailing, come equipped with your goggles and trunks, and be prepared to get wet!
However, it's not just the Caribbean that deserves your time and attention. The River Bumpkin Farm is brimming with exciting eco-excursions activities like river tubing and kayaking down the Martha Brae. Elsewhere, allow adventure company Chukka to guide you up, under and over the lively, crystal-clear Mayfield Falls.
TOP TIP: A talking point at the Half Moon Equestrian Centre is a session simply called Empowerment. During this un-mounted encounter, you'll use body language to create mutual respect and cooperation between you and your horse - ideal for those keen to improve their self-confidence and self-esteem.
TRAVEL DETAILS: There are charter flights available directly from Dublin to Montego Bay. Alternatively, British Airways will get you there from London.
WHERE TO STAY: Previous guests of the legendary Jamaica Inn have included Winston Churchill, Noel Coward, Arthur Miller and Marilyn Monroe, and James Bond scribe Ian Fleming. Double O Heaven! Rooms start at €289 B&B.
STAYCATION ALTERNATIVE: Located in the heart of Connemara, Delphi is a top-notch adventure centre ideal for all the family.
WEBSITES: visitjamaica.com, chukka.com, halfmoon.com, jamaicainn.com, delphiadventureresort.com
 2. WINTER SPORTS: SOLDEN, AUSTRIA
WHAT: Located in the heart of the Tyrol Valley, Solden's status as a ski resort comes with a 007 seal of approval (the fella gets around!). Lionised on the silver screen thanks to its central role in James Bond's Spectre, Solden and her Alpine setting is the must-visit destination for all your winter sporting needs.
WHY: Kitted out with some of the most beautiful slopes in Europe, Solden offers an embarrassment of winter sports - from tobogganing to sledding, ice-skating to paragliding. If that wasn't enough, with snow-covered slopes open until May, the skiing season isn't just limited to the winter months. Oh, and they also have crazy après ski festivals throughout the year!
TOP TIP: Be sure to book a table at Ice Q Bistro, located 3,000 metres above sea level. Featured in Spectre, this chic eatery marries top-notch local cuisine with spectacular, jaw-to-the-floor views.
TRAVEL DETAILS: Aer Lingus flies directly to Munich, Germany. To get to Solden, it's then a three-hour drive through the magnificent Tyrol Valley.
WHERE TO STAY: The town's premier hotel is the five-star DAS Central, which effortlessly combines modernity with age-old traditions. Rooms start at €200 per night.
STAYCATION ALTERNATIVE: The excellent, not-for-profit Ski Club of Ireland is based in Kilternan, Co. Dublin, where it operates the National Snowsports Centre for Ireland.
WEBSITES: soelden.com, central-soelden.com, skiclub.ie
 3. DETOX: SHA CLINIC, ALICANTE
WHAT: Life can often prove a little overwhelming and sometimes the only solution is to press reboot and start all over. If this sounds appealing, then book a detox programme in Spain's exclusive SHA Clinic.
WHY: For over 10 years, this luxurious facility has been welcoming the A - Z of celebrities such as Gwyneth Paltrow, Naomi Campbell and Kylie Minogue - all of whom are keen to avail of the SHA's unique diet and cutting-edge treatments that fuse Eastern philosophy with Western medicine.
Whether it's the rejuvenating BDR facial or the weight-shifting Indiba Body, there are few treatments you'll regret doing at SHA, but there's one you'll regret not doing - the 50-minute Watsu massage. With origins in Japanese Shiatsu, this underwater experience (offered for individuals or couples) is a therapy that's so relaxing, you'll need to take a siesta afterwards!
TOP TIP: Get bang for your buck and take advantage of the free group activities scheduled each day including yoga, Nordic walks, aqua-gym, film screenings and Qi Gong - a holistic practice incorporating movement, breathing and meditation.
TRAVEL DETAILS: Located near L'Albir on Spain's Costa Blanca, SHA provides transfers to and from Alicante and Valencia airports, which are 62 and 150 kilometres away respectively (fly with Ryanair or Aer Lingus).
WHERE TO STAY: The full-board SHA Discovery Programme gives an excellent overview of the clinic's approach and costs €1,250 per person, excluding accommodation, which starts from €310 per night.
STAYING AT HOME: Forbes listed Enniscorthy's award-winning Monart as one of their top 10 destinations in the world. One step through its doors and it's easy to see why.
WEBSITE: shawellnessclinic.com, monart.ie
 4. GOLF: QUINTA DO LAGO, THE ALGARVE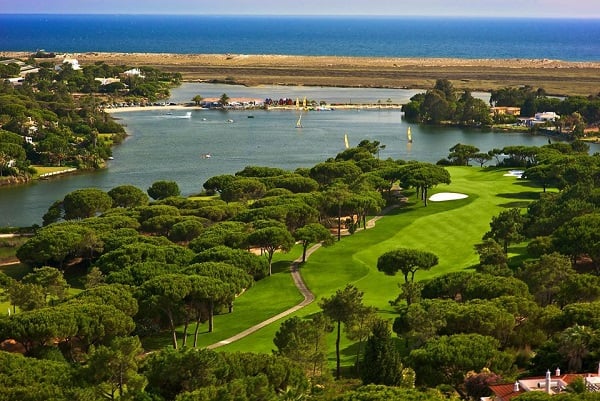 WHAT: Few places in Europe are better equipped to cater to our golfing needs than the Algarve's exclusive Quinta do Lago.
WHY: This luxurious resort has firmly established itself as a mecca for cyclists, athletes and, in particular, golfers. Quinta do Lago claims three, world-class golf courses suitable for enthusiasts of all levels. Familiar faces include Rory McIlroy, Paul McGinley and Dragons' Den fitness guru Duncan Bannatyne.
TOP TIP: The Campus is a state-of-the-art sporting facility that provides professional-level training and coaching across all fields of sport - including padel - the tennis-meets-squash craze taking over Europe.
TRAVEL DETAILS: Aer Lingus and Ryanair fly directly to Faro Airport. From there, Quinta do Lago is a 15-minute drive.
WHERE TO STAY: The Irish-owned Magnolia Hotel provides the lifestyle of Quinta do Lago without the exorbitant price-tags associated with the resort. Best of all, this quirky, Instagram-friendly property offers guests free transfers and preferential rates to the area's facilities. Rates start from €78 per room B&B while golf packages - three nights, B&B, and two rounds of golf - are priced €415 per person.
STAYCATION ALTERNATIVE: Try Enniskillen's five-star Lough Erne Hotel, which claims two championship golf courses.
WEBSITES: quintadolago.com, themagnoliahotelqdl.com, lougherneresort.com
WHAT: Forget New York! With a population fewer than three million, Chicago is arguably America's funkiest destination. What's more, when it comes to things to do and see, the sky is the limit - which is somewhat appropriate considering the city is credited with inventing the skyscraper!
WHY: Those who appreciate architecture will need a neck massage by the time this break is complete such is the volume of treasures towering above the city, including the neo-gothic Tribune Towers and the former headquarters of chewing gum magnate, Wrigley Building.
Elsewhere, Cloud Gate, known locally as the Bean, is Instagram fodder while the Art Institute of Chicago houses a fine collection of impressionist, post-impressionist, and American masterpieces.
Jazz-lovers, meanwhile, will be in their element - some of the world's best clubs are found in the Second City!
TOP TIP: Thrill-seekers should take themselves to the Willis Tower, the western hemisphere's tallest building, and ascend to Skydeck on the 103rd floor before stepping out onto its terrifying glass ledge. Not for the faint-hearted.
TRAVEL DETAILS: Aer Lingus and American Airlines fly directly from Ireland to Chicago O'Hare.
WHERE TO STAY: Check out the luxurious Dana Hotel & Spa - a unique and modern residency. Visit its award-winning Vertigo Sky Lounge, which soars 26 storeys above the city. Rates start at $289 per night.
STAYCATION ALTERNATIVE: The world-renowned Cork Jazz Festival takes place in October every year.
WEBSITES: visitchicago.com, theskydeck.com, danahotelandspa.com, guinnessjazzfestival.com
6. OFF THE BEATEN TRACK: VENICE'S 118 ISLANDS
WHAT: Venice is one of Europe's most visited cities but what the millions of tourists who descend upon the Queen of the Adriatic fail to include in their itinerary is a ramble around some of the 118 islands scattered around the lagoon.
WHY: There's far more to Venice than canals, bobbing gondolas and St Mark's Square. Take Torcello, home to a throne legend claims belonged to Attila the Hun or the eerie San Servolo, a one-time mental asylum. Stunning Lido is the largest of these islands as well as playing host to the Venice Film Festival while the candy-coloured Murano and Burano are famed for glass and lace respectively.
TOP TIP: For those on a budget, your prayers will be answered by visiting the immaculately-preserved monasteries of San Francesco del Deserto (donations only) and San Lazzaro degli Armeni (€6).
TRAVEL DETAILS: Aer Lingus will fly you into Marco Polo airport. As you can imagine with island-hopping, it's all about the boats from there. The Alilaguna airport ferry will bring you into St Mark's Square. The majority of the islands are then accessed by the local ferries – or ACTV vaporettos. Travel passes start at €20 per day.
WHERE TO STAY: JW Marriott recently gave Isola delle Rose a lifeline by converting the former hospital for pulmonary diseases into a luxurious five-star hotel. Rooms start at €395 per night.
STAYCATION ALTERNATIVE: If you venture out to the stunning Aran Islands, be sure to visit the two smaller islands – Inis Meain and Inis Oirr. They're not as well serviced as Inis Mór, but worthy of a quick jaunt, nonetheless.
WEBSITES: veneziaunica.it, marriott.com, sanfrancescodeldeserto.it, actv.it, aranislands.ie
7. VOCAL TRAINING: THE ROY HART VOICE CENTRE, FRANCE
WHAT: If you want a moment away from the world to reflect, research and create then you need to familiarise yourself with the world-renowned vocal laboratory, the Roy Hart Centre. Since 1974, the hill-top venue in the South of France has grown from a near hermit-like existence to welcoming thousands, eager to explore and unlock our most powerful instrument - the human voice.
WHY: Tucked away from the whirling world in the remote but scenic Malérargues, the centre offers a diverse mixture of vocal workshops - from singing to personal training, improvisation to clowning.
Taking place between March and November, these fun and wait-until-I-tell-the-lads-at-home workshops vary in length - a few days or a few weeks - and are open to all levels. So, whether you're a professional in theatre or someone who simply wants to unshackle themselves from the demands of everyday life, the Roy Hart Centre is definitely an adventure to shout about.
TOP TIP: There are usually just 10 students per course so be sure to book early. Prices vary depending on length - for instance, the six-day Voice & Song course costs just €360.
TRAVEL DETAILS: Fly into Nimes with Ryanair before taking the bus to St Jean du Gard. Get off at Gare de Thoiras where someone from the centre will meet you.
WHERE TO STAY: Accommodation is on-site, compromising of simple but comfortable shared rooms. There are two equipped kitchens, which create a fantastic, communal atmosphere. From €20 per night.
STAYCATION ALTERNATIVE: The Roy Hart Centre's disciples offer workshops throughout the world including the Emerald Isle. Further details are available on their website.
WEBSITE: roy-hart-theatre.com
Check out our main blog for all the latest how to's, style trends and fashion tips for men.